It is the first time since the TPRAWKS'08 event that I've seen my fellow group members again. I think I've pretty much forgotten the names of at least half the group already.
Can't blame me though. The sense of camaraderie just wasn't strong enough here
.
Not many people turned up as hoped. We dwindled to a mere handful. Then the leader who fixed the appointment time of 4.30pm, turned up at 5pm+. -_-""
And to think I rushed to the Cathay, trying
not
to be late.
There were certainly some changes around. The two best friends were dressed impeccably well. To me, they felt more grown-up instead of being all girly and everything. Wee Kiat had a new hairstyle which was so much better than his previous crewcut. Umi seemed tired. Then again, she was busy with a night-cycling event at ECP yesterday.
(Coincidentally, I was barely a few metres from the bicycle station yesterday too. But we never saw each other. Fate, non?)
And Nadzeef? Same as always. A little more bulk though.
Shortie was Shortie.
Gawd. I still feel weird calling her Shortie.
Her most distinctive attribute was our entertainment fare while waiting for the last person to arrive. I haven't heard this much vertically-challenged jokes in one sitting before. ~_~ Poor Shortie.
Yolanda? Well...She was much spunkier than before. My last impression of her at TPrawks'08 was a more or less, reserved person who let people like Shortie and Nadia take the spotlight then. Now...It's like WHOA. You CAN turn a lamb into a tiger after all!
We went to Ben & Jerry's to eat, slack and talk cock. I never actually set foot in such a high-end ice cream shop before (Swensens doesn't count). Turned out to be quite comfy though. They had those plush velvet-covered cushions as backs for the inner seats and black-and-white cube chairs for those on the outside. It would have been cosy enough if not for the fact that MTV was blasting on a huge projector screen in the background. And of all things to show, it HAD to be the making of the Paris Hilton New BFF show. Whatever its name is anyway.
The food was decent though. There were "value" combos which were expensive in their own right but more affordable compared to the original menu items. I liked how they presented the nachos and cheese dip. Pity it wasn't Valentines' Day, since the heart-shaped dip-holder would look better then.
Shared a combo with Umi. I tried the famous Strawberry Cheesecake ice cream which Yolanda was raving about. It was...Oddly nice? I don't know who to describe it. But basically it tasted like cream cheese with generous chucks of strawberries in it. I'm not sure if I liked biting into the strawberry bits. It was sweet from the ice cream and there was a mildly strong strawberry with the tang of it slowly seeping into the tongue. To begin with, I never liked fruits in ice cream. Give me sinful chocolate anyday (Phish!).
Somehow, the B&J shop ran out of nachos for my order.
Is that even possible?
. This was the replacement.
Chocolate Brownie with Chunky Monkey ice cream on top
.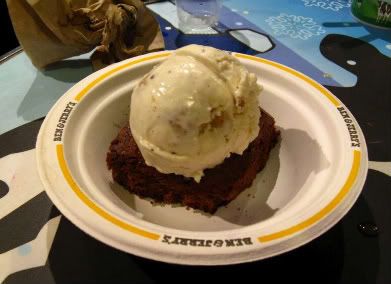 I always wanted to try out their trademark Chunky Monkey. The fans made it seem like something extraordinary and all. Which is why fans can't always be trusted. Personally, I think Chunky Monkey is overrated. It's just banana-flavoured ice cream with nuts. Such a disappointment.
After the ice cream
binge
treat, Umi & Nadz had to leave for prayers. No offense, but why now of all times to have prayers? Anyway, the rest of us went to while away our time at Plaza Sing. Strangely enough, we went to Daiso. That cool $2 shop selling Japanese imports. I was always a sucker for colourful things. Hence my newest purchase.
10 Coloured PENS for $2!
Next was the arcade (again). Shortie & Yolanda didn't want to play. Wee Kiat went off by himself to play shooting games. The twosome were in their own little world. Perhaps I couldn't really relax around my companions. Which was why I failed miserably at the Basketball game which I had scored at just a day earlier. Haiz...
On a little brighter note, I saw a cosplayer in the arcade. No, he wasn't in costume. But I recognized him anyway. Who wouldn't? It's that really bishounen Shiki who appeared at AFA (Anime Festival Asia) late last year! OMG. I was half-tempted to ask for a photo since he's already clad in J-Punk clothing. But OMFG. He looks like an Anime character even when he's OUT of costume. =DDDDD
Ehhh...Back to outing...Erm....We went to Secret Recipe for dinner. Food there was overpriced and not really worth it anyway. Nadz ordered the Kids' Meal XD
Then someone else had the guts to try Tom Yam spaghetti. Which I heard was beyond awful and didn't even taste like Tom Yum. Like duh. How on earth do you mix a dish whose flavour lay in its soup with dry spaghetti?
I myself ordered a cheesy penne dish of prawns and mushrooms. It started off kinda bland. Which prompted me to douse it with cheese poweder. Which made it nauseating towards the end. I can't believe I'm saying this. Cheese made me ill. ICK.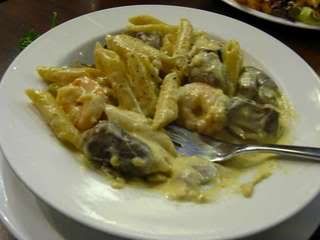 Looks disgusting eh?
Next up was Rocher Road's soya beancurd or
tau huey
. We walked from Plaza Sing to the little shop house tucked away in a row of olden but spruced up shop houses. Apparently business there was so good that they extended tables into the darkened back alleys. Likewise, I hadn't set foot into this kind of place before.
Alleys have a really mysterious atmosphere to them. Of sleazy rendezvouses and illegal trading. Where nameless bandits dwell in wait for fresh prey and the darkness which encompasses all.
It was hard to capture that feeling of being in such a dangerous place since there were a whole bunch of other people there eating, drinking and making merry. The dozen or so electric lights placed all around sorta ruined that effect as well. Damnit.
I hate taking photos in that kind of dark. Especially since I don't know anything about flash manipulations and white balance and so on and so forth. This is just about the few remotely creepy photos I got.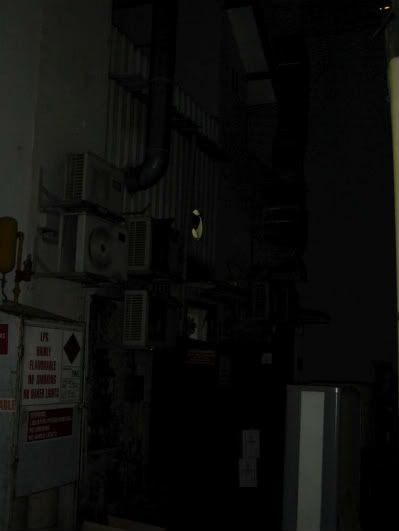 Ok...Fine. It ain't all that creepy. But humor me, k?
We took a final picture together and went our seperate ways. To home, to school, to a new life. Blah blah blah....
The End