Hecate had its first group outing today!
Unfortunately I overslept (as usual) and arrived later (as usual) hence missing out on an hour of conversation. So I ended up meeting them at the Takashimaya branch of Pepper Lunch (Ironically, I ate lunch with my Mum at the Pepper Lunch in AMK earlier >_>).
After that, we spent the better part of the afternoon wandering aimlessly around some shopping malls before finally taking a break in the building opposite Wheelock Place where we slacked off with 爹. Along the way, we learnt that some of the guys couldn't bring themselves to enter a make-up store [SaSa]
because they were too macho to be seen in a girly make-up haven.
And somehow, we ended up rummaging through Edward's wallet
to make fun of his photos back then and now
, and had 爹 enlighten us on the whole GEMs (General Elective Modules) thing as well as the truth about certain clubs in SP.
One way or other, we came to a decision to crash Joshua (the GL whose uber-slow version of Bom Chika Bom everyone dreaded)'s birthday party even though we barely knew the guy. Why? Because 爹娘 were going as well.
So we idled our time away until it was time for us to meet up with 娘. I ended up whipping out my camera to take candid shots unnoticed
which failed
.
And KeQi, Tang Jie & I indulged in some self-love.
We met娘 at City Hall and went off to get a card (Like payment for partaking in the birthday cheer) from Hallmark. Yeah, that gift shop with the overpriced cards.
Our chosen pop-up 3D card (no bigger than my report card) costed us $10. >_>
If that wasn't enough, there was a A3-sized card which was $28. And it didn't pop-up like a magic trick. It's clearly daylight robbery.
A couple of other GLs [Pearlyn, Jing Wen & Gina, right?] brought us to the venue. I heard other groups (
Slipper
Silifer? Nebula? Zombi?) were joining the party as well. The only venue I know of which can fit that many people is McDonalds. For a moment there, I had a disturbing mental image of everyone there with freebie party hats & balloons, like those brat [Read: BRAT, not FRAT] parties the overly-indulgent parents organize for their
demon spawn
beloved offspring. Thankfully (Or not), that wasn't the case.
The place's Kenny Rogers at Marina Square. I was kinda expected a Carl's Jr-like place from the sound of it. It was something like that, with the casual atmosphere of any random fast-food restaurant.
The only difference was the pricing. Which utterly floored us all.
They had meals which cost up to $50++. The cheapest set meal cost $12.90, without GST & service charge. SALAD cost $7.50 a serving
(That's some expensive rabbit food)
.
Needless to say, everyone at Hecate took a long time just deciding what to get. It was really tempting to just order water and/or corn muffins ($1.80 a muffin), then get away from there. So we talk cock (nearly) sing song and took some photos.
Candid Shot!
(Or not, since Qing Tao saw me)
Did the two sons go shopping together? *Looks pointedly at shirts*
LOL @ Jim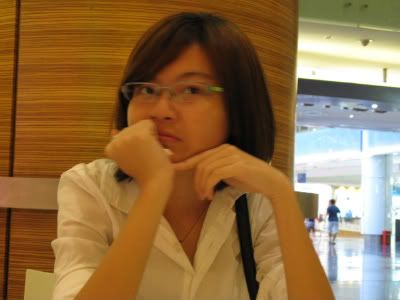 Damn, she caught me...
When Joshua arrived, the groups which were there didn't really sing any birthday song to him. There were several disembodied greetings and gifts were presented to said birthday boy.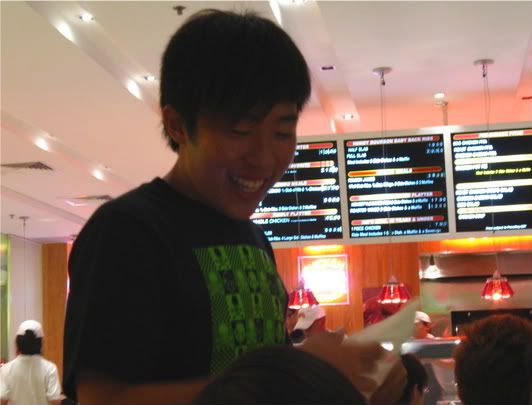 After sitting there for what seemed like eons (And feeling increasing abashed to the service staff who had been really patient with us not ordering anything yet while taking up a lotta space), we relented and ordered proper-ish food. Not corn muffins though. Those were free =).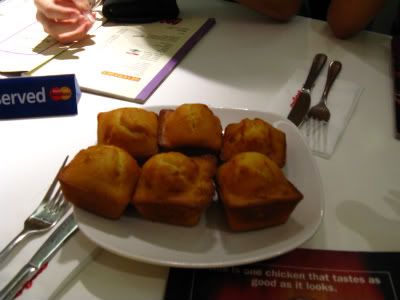 They were not bad actually. I always thought corn muffins to be like bird food.
Ke Qi, Tang Jie & I shared some $12.90 set meal of chicken wings, side dishes of Macaroni & Cheese & Garlic Parsley Potato. The chicken wings had chicken HAIR on them >_<. Not to mention the meat was a little tough and the taste was nothing special. The side dishes though, were nice. I liked the Garlic Parsley Potato because it's not overwhelmingly flavoured with garlic but yet remains garlicky enough.
But my favorite was the Macaroni & Cheese. Much to my companions' disgust, the macaroni was generously coated in a film of bright yellow gooey cheese sauce. Honestly, I couldn't see what's so gross about it. Still, I ended up finishing the Macaroni & Cheese by myself, cheese addict that I am; and was too full to finish the remaining chicken wing.
娘 ordered the Chicken Pot Pie set. The "Pie" was larger than a typical coconut. Amazingly enough, he finished everything except a few scraps of bread which was shared amongst the guys.
I think the soups were ordered by 爹 and Hazel. The chicken soup looked kinda greasy to me [Was it?]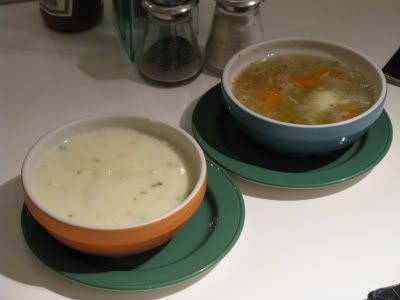 During the meal, the topic of ghostly encounters was brought up. I couldn't hear everything but there was something about why you shouldn't turn back while crossing the Red Bridge in the Business School, the way cheap Genting hotels dispose of suicides and why the Pax Lodge in Camp Christine (which we girls slept in CSCC camp day 1) was ridiculously cold at night. =/
We Hecate kids forked out money so we can treat out our dear 爹娘. The other GLs were envious loh XD But 爹 was a little put-out because she ordered only a soup while 娘 got the most expensive dish. LOL.
After the meal, we hung around for a while and sung the birthday song from the second floor (where they can't hear us)
and watched the ensuring tussle when Tang Jie blurted out that Ke Qi's wardrobe faux pas and Ke Qi treated all to candid photos of a sleeping Tang Jie.
Next up was the arcade. 爹 tried her hand at the notorious claw machines. (FYI, the claw machines in the arcade entice people with the cuddly-looking plushies within their transparent guts. Then they trick said people into handing over coins. Yes, claw machines eat money.
I know it all too well
) Then they had a F1 car race (in which Hazel got
really
excited and Jim pwned everyone else).
娘 and the guys played pool despite the exorbitant price ($12 per hour!). The girls just hung around at the background chatting. I had no idea there was this many K-Music fans around me [Hazel & Tang Jie]. I must be one of the minority still onto J-Rock nowadays. 0.o.
Anyway, I got rather lethargic around that time which was probably why I couldn't get clear photos despite taking that many candid shots.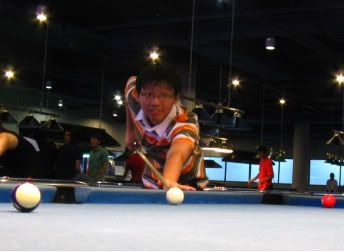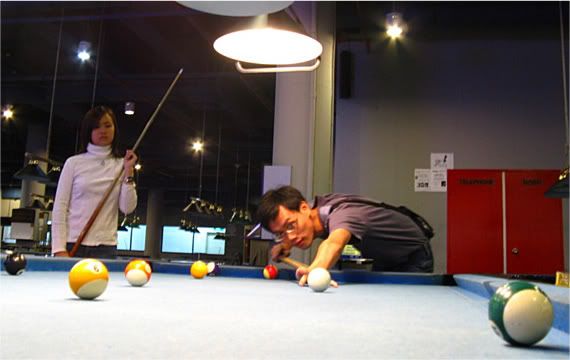 Qing Tao looks unassuming and all, but he's actually pro at pool.
Our 娘 is quite the pool pro as well
Runs in the genes, I suppose.
I broke off from the rest of the group to meet my parents who were going to send me home. Which was a mistake because I ended up walking from Marina Square to Pan Pacific Hotel and then across the road back to Suntec City Convention Centre again. Because Orchard Road doesn't have enough external overhead bridges and I daren't jaywalk in my sleepy state.
Initially I was kinda apprehensive about the meeting point (at Orchard). After all, most everything on Orchard Road is frigging expensive or at least, way out of my spending range. But I guess it was money well spent for together time.
I suppose I neglected to mention to the passer-by that the so-called Image Stabilizer of my digicam doesn't work as well as it should.