Phew. The hectic week of Pre-Lims is over. Then there's one week to cram Physics and then some practical info on the Science Practical exams before rounding up the whole
bloody
Pre-Lims in Term 4. . Be Yourself Day is tomorrow and I regret to have to go out quietly this year since I have no time to get a costume (whether made or assembled). HAIZ.... But on the bright side, Nadzeef did mention he'll do something. My cam's getting fired up and I'll be waiting...
But for now, I just HAVE TO introduce this crack Korean group.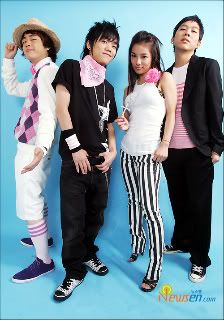 Moo Ga Dang (무가당)
舞歌黨 (Chinese Name)
Sugarless (English Name)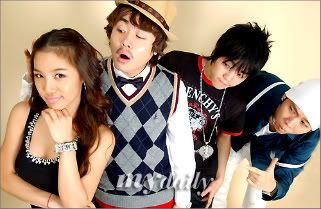 I got to know this group during one of my endless Internet surfing trips, when I DL-ed their first self-titled single, Moo Ga Dang. Consisting of Song Baek Kyung (1TYM), Lee Eun Ji (SWIT), VJ PRHYME & Kim Woo Geun (BOUNCE) all of whom came from different groups, Moo Ga Dang released their first single in 2006. For those who find Song Baek Kyung (the vaguely familiar, he acted as the Prince's friend in Goong S.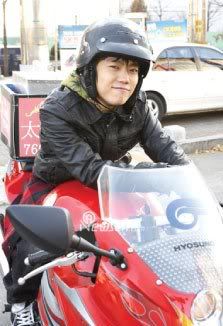 A look at the single cover pretty much gives you a brief idea of how...unconventional Moo Ga Dang is.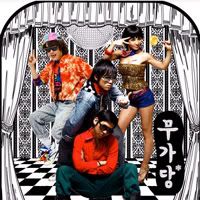 01. Don't Call Me Babe
02. Nose Nolabose (노세 놀아보세)
03. Just Sexy
04. Nose Nolabose (Disco Remix)
05. Don't Call Me Babe (Inst.)
Link:
Moo Ga Dang
Don't Call Me Babe
jumpstarts the single with a rather catchy techno tempo with...those traditional Korean zithers in the background. It may sound rather repetitive to some though I was hooked from the first track. It's like cheesy crack disco with a new twist. My favourite track was
Nose Nolabose
. It's not as energetic as the first track, but the rapidfire Korean rap with relatively clear English thrown in here and there sorta grow on you. Then there was the gunshots in between which blended right in with the erratic music.
Just Sexy
is more smooth with Eun Ji leading the vocals at first with the guys rapping and one of them joining in. I don't think it's as power-packed as the first two tracks, but it's a great pick-me-up in any case. The two remixes didn't really leave that much of an impression on me but then again, most remixes don't.
I'll recommend this as a perky wake-up after a long study session. Moo Ga Dang breaks away from the usual stereotype that Koreans produce weepy ballads and nifty dance tracks (I don't even to imagine HOW to dance Moo Ga Dang's songs....). They do crack cosplay photos too. XD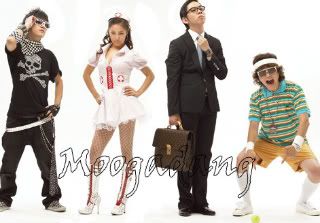 It's a pity the lyrics remain largely incomprehensible to me though. They already released a 2nd single, OAO. One of the songs had "SHAKE YOUR BOOTY" as a theme. >_<
But either way, Moo Ga Dang is refreshing after listening to Korean ballads (however nice they are).
Moo Ga Dang - Nose Nolabose (노세 놀아보세) LIVE
There was this other live performance which was much livelier, but this one's clearer. Erm...With the exception of Eun Ji & her dancers, the others were...like clothed monkeys but somewhat cute in that dorky<3 way. And look out for PRHYME and his Pringles T-Shirt. They are dork<3 no doubt. I wouldn't be all ga-ga over Moo Ga Dang, but it's good entertainment. ;-)