As usual, it was friggin' crowded. It amazes me that despite getting nice large venues, the crowds still overflow every single bloody time. It still irks me time and again that everytime I tried to take a photo, someone nudges/bumps into/blocks me. GRRRRRR.
Anyway, I did manage to take some pretty clear shots of some of the cosplayers there. Yeah, yeah. Missed a whole lot more as usual.
~The Cosplayers~
The ratio of cosplayers to crowd was even smaller than usual. At first that is. I think I missed out on alot of them because of the crowds. All photos were taken by me.
Cloud in a dress was sheer ROFL. I think it was fan-spawned
as with all crack ideas
.
I think.
I hope actually. Coz I can't imagine the Final Fantasy franchise entertaining fangirls by putting Crossdressing Cloud in the game.
The Soi Fong cosplayer was PERFECT. She had that tough look which practically emanated this meanness. It sorta made me a bit hesitant to ask for a photo initially (What if she was TOO MUCH in character?). But when I did, she just nodded mutely and struck a pose even though I might have interrupted her break time.
The pirate, btw, was actually hired by a shop to promote something. He was giving out pamphlets at one point.
~The Competition~
The cosplayers were actually spontaneous and IN CHARACTER. I think the best was Hatsune Miku, she was so genki that she bordered on annoying. I'm not sure if a VOCALOID was suppose to even have a personality to begin with, but if you want judge by looks alone....Then I guess it fits. Typical Japanese Girl character, you see.
Then the guy with the massive wing (from a game, which I don't know) had all but threatened the audience into voting for him. LOL.
Hmm...What else...The afro dude was totally hip! And Kakashi (in spite of a lack of spikes in his hairstyle) remained so Kakashi-like even when the limelight is not on him. He read porn on stage while waiting for the other contestants.
I can't remember everyone, but the one-winged cosplayer was one of the winners. Shows that threats worked pretty well, eh? XD
~The Dolfies~
The dolfies on display had a more Western look, considering their facial features and all. While it's nice to see dolfies with another type of appearence, I still prefer the Asian-looking dolfies. They look more refined somehow.
One example is the very first picture of the black-haired dolfie. His owner had very kindly permitted me a picture. The rest of the dolfies were on display at some booths.
The LEGO Patriotism
It was probably some competition on showing iconic Singapore in the form of LEGO. I was quite impressed considering that many of these works were pretty intricate (buildings and more buildings). But I preferred the orang utan one [1st one in the slideshow]. Guess which Singapore icon it represents? Ah Meng
My favourite LEGO art was this though. It was not a part of the above collection, which was a pity since they just left it sitting in a miscellaneous display shelf of Star Wars merchandise. I just found it kinda cute. It's YODA!
(how could anyone not like YODA)
They had this massive graffiti wall out front of the entrances. The graffiti style...Hmm...Psychedelic?
It reminds me of the Beatles. A lot.
This are all the miscellanous random photos I took.
They had famous designers and cartoonists as guests. The range is pretty large, I have to say. The guest cartoonists included people like the Lao Fu Zi creator to modern ones like the creator of
Tokidoki
. This is a sample of Tokidoki art btw.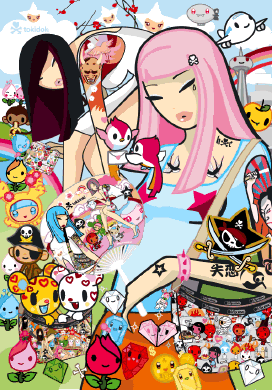 Damn cool siah.
What I liked was how down-to-earth the cartoonists were. I mean, they mingled amongst the crowds, signed autographs and did impromptu demostrations. It was cool, their lack-of-airs.
Besides that, there were THOUSANDS of figurines on display. From Star Wars to the Simpsons, it's...Whoa. I wished I spent more time snapping photos of them. It was simply exquiste!
Hopefully the next Singapore Toy & Comic Con would be more organized. And I want to see more cartoonists. And this time, do some research about time beforehand so I can get in onto the fuss. They're cool people who creates cool designs. It'll be a shame not to see them up close. Then they had veternans of the Animation industry give talks as well, but the ignorant me ended up dismissing that in favour of the cosplayeres. T_T
Ja nei for now!