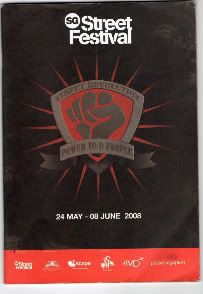 (This is my scrappy Streetfest booklet which got trodden on by accident, hence the shoeprint at the corner)
I arrived there late (as usual) and so, missed out on quite a number of bands.
And then I was running around taking photos and ended up missing a couple more bands. But thus far, these are the ones I've paid attention to.
It wasn't such a good idea to hold a cosplay/music event in such a small area of Suntec City (Where the CONVENTION HALLS could be used instead). To make things worse, the D'J Party clashed with some Canon promotion event. Which resulted in a lose-lose situation for both D'J Party peeps and Canon. The latter gets pissed off by the photography of cosplayers (takes up space) and the rest of us are peeved by them stopping random people to hawk their wares (takes up space). As you can see, this is the crowd
AFTER
the cosplay competition.
Despite a large no. of people leaving after the cosplay competition, the place was still considerably crowded.
Quis
Quis is relatively new on the scene (3 months old!). Did you know the vocalist was a former child actor? He played the character "Luo Tou" in the 1990s' mandarin drama "Tou Fu Street". In addition to that, he was a finalist in the first generation of Campus Superstar. I was kinda surprised to see him performing in a J-rock band because of all the Mandarin-related work he did.
Anyway, the videos don't do the band justice (Youtube never does). They were certainly much, much better live.
ALONES [by Aqua Timez] (Bleach)
The first cover of ALONES I've heard. These guys are pretty updated loh. At that time, ALONES was the latest Bleach opening theme.
Driver's High [by L'Arc~en~Ciel] (GTO)
Skyler
The vocalist had this uber-strong voice which is easily identified too. However, they seem to have a knack for choosing songs by artists with uniquely different voices (hard to emulate). It's great that they are challenging themselves to cover this kind of songs but they don't always work out though.
Jam [by YUI]
I like Skyler's cover of this. The vocalist's voice doesn't take your attention away from the music (which is actually pleasantly laid-back in a way) but manages to stand out anyhow. =)
YUI has this high-pitched, whiny-ish voice which sets her apart from other J-Pop songstresses, but it tends to grate on my nerves sometimes (That's just me though).
Marunouchi Sadistic
[by Tokyo Jihen]
Ooh, I like the flute (Is that a flute?) solo at 2.43. And also the scat thingy she does before that. While it's a little faster than normal, I think it turned quite nicely.
Shiina Ringo (original vocalist) has one of those love-em-or-hate-em voices (with the occasional screeching and all). Just to note.
God Knows...[by Aya Hirano] (Melancholy of Suzumiya Haruhi)
I think this is a pretty decent cover (I've seen worse ones out there). Though it's kinda clear that the vocalist is quite tense. I'm not used to hearing this song being sung in a lower pitch(?). Aya Hirano has the typical Anime girl voice (a.k.a. High-pitched, squeaky-ish & annoying after prolonged exposure) and she did this song with much aplomb. So "God Knows..." is arguably a difficult song to cover. Kudos to Skyler for trying though.
Weekend [by
X Japan
]
This very performance led me to discover one of my all-time fave J-Rock songs. I'm partial to this cover since I saw it before the original. But once I got to know about X Japan's one, this cover version was quickly forgotten even though it is the only FEMALE cover version I've seen so far. Because once again, Skyler chose a song which is so closely tied to its original artists that anything else would pale in comparision.
X Japan
is practically legendary and their vocalist
Toshi
had one of the more unique voices in the history of J-Rock. Attempting their songs is a whole new class of "difficult" regardless of whether you're keeping to the original style as much as possible or trying to imbue it with your own style.
Still, I like this cover enough. It's definately one of the better ones.
Crossover! - Tao Ren (Shaman King) + Sakura & Syaoran (Card Captor Sakura)
Although there were many Gothic characters around that day, this lady here caught my attention. She really stood out with her wild white tresses (complete with mask) and slender profile. For some reason she reminded me of Death from the Sandman comics. It's not the physical appearences, but the...mysterious charm they both possess.
Now this is one classy Gothic Lolita. Or should I even classify her as a lolita? She seems so much more mature than the others. The masquerade-like mask added a really nice touch to her poise.
Suzumiya Haruhi (Melancholy of Suzumiya Haruhi) CHIO!
Lavi (D. Gray Man)
Near (Death Note)
This young cosplayer was unfortunate enough to be the target of a teenage stalker. >_< I'm not kidding here..>_<...Fortunately, said teenage stalker didn't put him off cosplay permanently.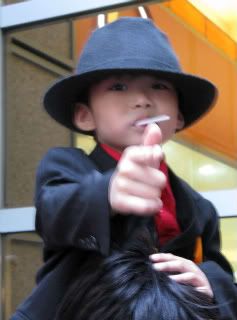 Reborn (Katekyo Hitman Reborn). This guy was with the KHR jumpsuit team. He's perched on Adult!Lambo's head (as seen by the turf of hair there).
Watching the team have fun makes me want to cosplay myself.